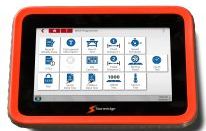 The new Optimo tool is the latest generation Workshop tool from Stoneridge Electronics. Available in 14 languages, Optimo has been designed to increase efficiency and take tachograph programming into the future. Optimo also allows users the option to switch the 2nd source of motion function on/off in SE5000 tachographs and all VDO variants – the only tool in the market to do so.
Optimo programmes and calibrates the following tachographs:
All Digital Tachographs (Wireless programming)
Stoneridge 2400 & VDO 1324 (Wireless programming)
Stoneridge 8400 & 8300
VDO 1314, 1318 & 1319
Motometer EGK100
Download more information about Optimo or please call 01382 866 400 to find out more.