You asked. We delivered. Together, we make the perfect Duo.
We've created two free Android apps to make life even easier for you. To use our apps, you will need a Tacho Link dongle* to enable your digital tachograph to connect with your Android phone via a Bluetooth connection.
* Purchase your Tacho Link dongle here.

The first of our free apps is Duo Mobile, which syncs with your SE5000 Exakt Duo and turns your phone into a second display, giving you real-time updates - including drive and rest time countdowns, as well as handy warnings to help keep you legal - on your phone screen.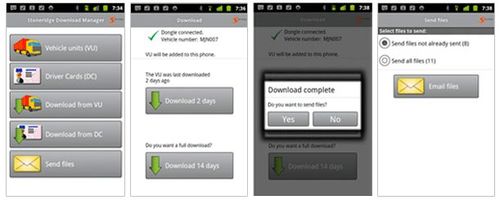 With our innovative app, Tacho Center, you can now manage and download all your driver and vehicle unit information - wirelessly. Compatible with any EU type Approved digital digital tachograph, data can be emailed to your computer or sent straight to your OPTAC tachograph analysis software.
Fleets across Europe are already benefiting from the new SE5000 Exakt Duo - the original 'One Minute Rule' tachograph with built-in Duo technology. To get to grips with our latest innovation, visit our free online training area now.